For years, New Berlin Plastics has made ongoing investments in people, process, and technology. All of it is focused on better serving our customers.
We take a holistic approach to ensure that we continually improve our processes, leverage technologies in smart and effective ways, recruit quality people, and retain talented employees.
Our goals are simple but laser-focused:
Be a financially stable, high-performance, low TCO supplier of exceptional quality parts.
Build relationships with customers who want to work with a strategic, sophisticated supplier for mutual success.
Be an employer and supplier of choice.
Position NBP as a safe place to put your business!
Our investments are focused on you
Our continuing investments in people, process, and technology help to ensure our financial stability – we'll be here for you tomorrow.
They also help us maintain our reputation as a high-performance supplier of exceptional quality parts – favored by a broad range of OEMs – and maintain the high level of service and quality our customers expect.
During times of increasing uncertainty, this focus helps us to reduce your risk. Think of us as a partner that acts as insurance against the known and unknown, helping navigate things like the current supply chain volatility.
Examples of our investments
People
We have cultivated a high-performance culture that attracts talented people to work for New Berlin Plastics.
We recently reimagined our company values to make them more relatable and actionable, help us make better decisions, and to ensure that we can attract and retain the best and brightest talent.
To further streamline every aspect of our production processes, our employees are trained and empowered to make decisions that help us avoid bottlenecks or slowdowns.
We have formed production floor focus teams, which aim to help their departments achieve operational excellence.
Process
LaunchLogic is our proprietary project launch communication process. It enables us to manage more projects, on time, without increasing engineering headcount. It has delivered a 95%+ on-time project launch track record – excellent in our industry.
We recently reorganized our secondary operations to improve their efficiency.
We methodically anticipate operational bottlenecks and take steps to prevent or solve them.
Technology
New presses – additions and replacements
Each year, we calibrate and rate the performance of each of our presses based on their operating tolerances, efficiency, and any capacity constraints we've identified. Once a machine constraint has been identified, it either gets updated or replaced. This approach enables us to be ready for growth and reduce our overhead costs.
NBP has invested in a number of new presses to meet the growing needs of our customers.
These investments include several specialty presses that are designed to produce smaller parts with minimal waste, driving more competitive pricing for our customers.
We have been standardizing on electric presses for better efficiencies, cycle times, and tolerance capabilities.
Robotics and automation
NBP continues to grow its in-house robotics and automation expertise and capabilities - unique for a molder our size.
We manage our own programming, installations, and implementations.
Three engineers plus technicians build end-of-arm tooling, shuttle tables, and other automation equipment. They also 3D print many of our automation components (reducing our costs and giving us greater agility).
This approach reduces the impact of labor shortages on our business and enables us to focus our employees on higher-value tasks.
It also results in more competitive part prices because we can eliminate any non-value-added labor for many projects and replace it with automated processes.
Quality lab
We recently doubled our part inspection throughput with new CMM equipment.
We also added 3D laser light scanning equipment for faster throughput of part approvals.
GROWING TO SERVE YOU
New Berlin Plastics recently purchased a 105,000 sq. ft. building to meet the growing needs of our existing customers and accommodate the needs of new customers.
This expansion will allow us to grow our manufacturing and operational capacities as we look to scale with existing and new customers.
The new building will contain around 20 new presses (depending upon the mix of machine tonnages).
It will also serve as the new location of our shipping and receiving operations. It has 12 loading docks.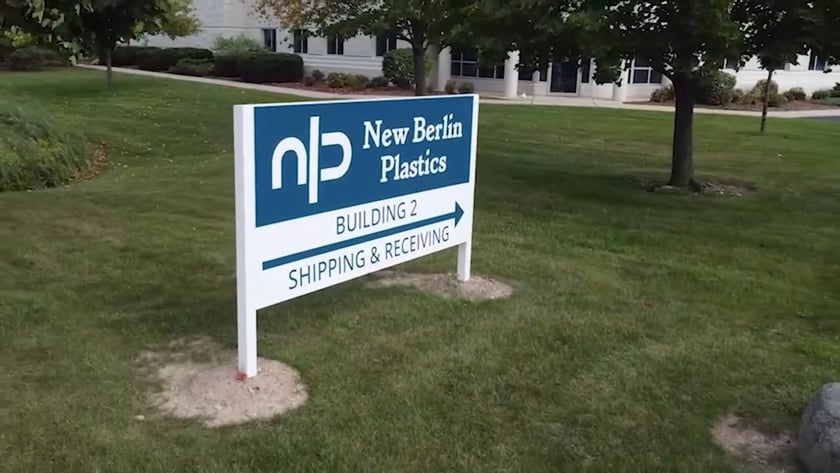 Black swans – unanticipated events that can rock an industry – test the strength and resiliency of every company. During the last several years, a series of them have threatened the health and stability of many plastic injection molders: The global pandemic. Severe material shortages. ...
Watch Capabilities Video
See our investments in people, process, and technology in action. Watch our capabilities video here.