A Passion for
Predictable Outcomes.
At New Berlin Plastics, we have a passion for delivering predictable outcomes.
IT ALL STARTS WITH THE PRINCIPLES THAT GUIDE OUR BUSINESS:
PEOPLE: Our investments in hiring and training the best people helps us deliver superior expertise and advice to our customers.
PROCESS: Our proven processes, which include Scientific Injection Molding and LaunchLogic, enable us to provide optimized, repeatable, and predictable quality outcomes at an affordable cost.
TECHNOLOGY: Robotics and automation help us drive down costs and maintain exceptionally consistent levels of part quality. PREDICTABLE OUTCOMES are the one and only result.
Scientific injection molding
Our tightly controlled scientific injection molding practices raise our services to the highest level of precision and allow us to create parts, simple or complex, in a repeatable and dependable way.  
Our process: LaunchLogic
Our process, LaunchLogic, can revolutionize your next project launch. The result is a 98% on-time launch track record, achieved over 100 simultaneous open customer projects.
- learn more - 
Experts
Our knowledge and understanding of engineering, plastics, and mold-building allows us to manage our overall process and quickly succeed in the creation of your products. 
Automation
Molding Automation
Automation is key to New Berlin Plastics' success. When we work with customers to develop and launch a project, automation plays a vital role in ensuring we are providing the best possible value.
Mold Flow Analysis
Design through mold flow analysis
Mold Flow Analysis is the science of simulating a resin's flow into a mold and the conditions that may arise during production. This predictive process can uncover part and mold design issues and allow corrective action before mold production begins
Design Assistance
From simple to complex
New Berlin Plastics focuses on design for manufacturability. Whether your part design is a simple housing, highly engineered component, or a cosmetic cover we will ensure your part and mold design provide you the best product possible. 
New Berlin Plastics is diversifying to serve the medical device industry. Our skills and experience position us well to serve this market. Diversification strengthens us so we can continue to serve our customers as a financially stable, high-performance supplier of exceptional quality parts.
We recently purchased a new building to stay one step ahead of growing demand from our customers. Here is a brief "inside look" at Building 2.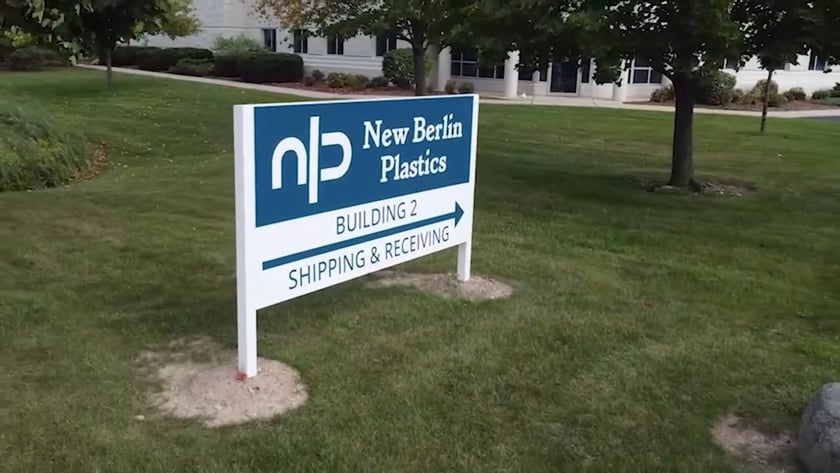 Our Commitment To Quality
We are continually raising our standards
Proud Members of these Associations
Our Goals, Mission and Vision
Goals
Pursuing growth in the injection molding industry
Continuous improvement in our processes, products, and people
Implementing new technology
Ethically conducting business and maintaining strong principles
Our Mission and Vision
Mission: To understand the necessary qualities that create success for our stakeholders; boldly deploy new ideas and increase our effectiveness to provide value.
Vision: To be the best choice for our employees, customers and suppliers.
"Take ownership of yourself and your responsibilities. Meet your commitments."
Act with integrity.
Keep your commitments.
Communicate clearly, don't leave requests unanswered.
Be dependable, your teammates are relying on you.
"Our strength is in our team. By working together toward common goals, we outperform our competition and provide our customers with excellent service."
Be excited to create success for other people.
Be willing to give and receive constructive criticism.
Follows our process, but don't be afraid to make suggestions for improvement.
Be an asset.
Communicate information early and anticipate others' needs.
"Get smarter with every mistake, learn from every experience. Our team, and company, will grow alongside you."
Your abilities can be developed through dedication and hard work—brains and talent are just the starting point.
Cultivate a love of learning, and resilience, that is essential for great accomplishment.
Build competence. Improve where you can and be honest about your weaknesses.
Be curious – approach life, and challenges, with an open mind.
Don't find comfort in the status quo.
"Positive attitudes are infectious – be the person you want to work with."
Make a positive difference for others.
See opportunities, not obstacles.
Lead by good example.
Show up with a strong work ethic.
Recognize achievement in others.
Keep a healthy perspective, don't take things too seriously and have some fun.
Treat others and your surroundings with respect.
"Don't let perfect be the enemy of great. Approach challenges with a solution-based mindset."
Have vision, push boundaries, and dare to innovate.
Be willing to change.
Be resourceful and show initiative.
Approach everything with a solution mindset.
Ask for help when needed.
Here at New Berlin Plastics, we're obsessed with driving variability out of our processes. It helps us improve part quality as well as reduce scrap, downtime, and labor costs while streamlining our operations. That's why we're starting to experiment with artificial intelligence (AI) in two areas. Here's a closer look at the benefits we're seeing…
Read More